Question: I've read somewhere a quotation by someone who said that the Ecopolitan is the most ecological restaurant in the world. Can you confirm or explain that statement?
EcoRaw Living is not only a natural way to satisfy our taste buds and nutrient needs without compromising the principles of ecology, sustainability, and nutritional health. It is a complete approach to life, involving every aspect of cellular nutrition and health that is known to science: Unlike other lifestyle approaches, including many raw food paths that often sadly focus on...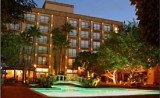 Because it is important to avoid intense sun exposure for three months after the procedure, Novadermy is only offered during the winter months. In order to ensure the very best support for your experience with Novadermy, groups are limited to a maximum of 15 people. Please note: there is a minimum of 4 people per group to hold a session. Please be sure to notify our office as early as...