Because it is important to avoid intense sun exposure for three months after the procedure, Novadermy is only offered during the winter months. In order to ensure the very best support for your experience with Novadermy, groups are limited to a maximum of 15 people.





Please note: there is a minimum of 4 people per group to hold a session.
Please be sure to notify our office as early as possible of your interest in the Novadermy procedure so that you can be sure to reserve your place in one of our groups.
This procedure takes place in Mexico; in order to facilitate your return to the USA, candidates must bring a valid passport with them.
How to Get There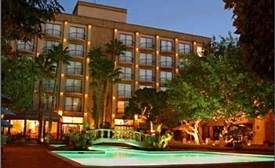 You will need to fly into San Diego International airport so as to arrive the day PRIOR to starting your procedure. Dr. Vargas has hired a professional driver to come to the terminal to meet you INDIVIDUALLY and bring you to the The Tijuana Grand Hotel - the modern Grand Care Suite (5 stars). If another hotel is chosen, you will be notified accordingly.

On the evening of your arrival and/or the following morning, you will be evaluated by a cardiologist/ECG and a general practitioner in order to have lab-work done that will rule out any contraindications. The chances of this happening are very unlikely as prior to being accepted to participate in this procedure, you will be asked to complete a preliminary questionnaire designed to eliminate any surprises and assure us that your experience will be as enjoyable, safe and comfortable as possible.
What to Eat While You're There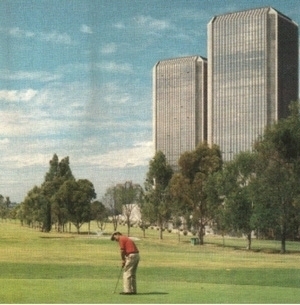 The 20-story medical complex, where the initial phase of the Novadermy facial rejuvenation procedure begins.
Last, there is the cost of Medical Foods. These are scientifically formulated, professionally-targeted, clinically rested, hypoallergenic (free of soy, dairy, egg, whey, peanuts, gluten, wheat, and corn), tasty powders containing rice-based macro-nutrients for energy and micro-nutrients for enhanced detoxification, nutrient-repletion, reduced inflammation and water retention, and healthy metabolism), which will keep you in good shape and help you lose a little bit of weight during the 10-day process, adding to the ultimate benefit of Novadermy.
By mixing the powder with water in your hotel room, you'll get a nice nutritious drink that completely replaces your meals. While the mask is forming on your face, you will have no choice but to drink it, using a straw, but we recommend that you eat just these Medical Foods during the entire process, even when you have no restrictive mask on your face. We estimate the entire 10-day discounted cost of Medical Foods to be $175-250 per person, depending on your caloric needs. Bring a shaker cup for easy mixing (from Nutri-Dyn: LB100). Once your health questionnaire and final Novadermy payment are received, please see the
FAQ page
for more information on how to order the medical foods at a discount, so that you may obtain them prior to your San Diego flight.
Fees and Costs
The cost for the procedure is $6,850 USD. The bulk of your fee goes to pay for the operating room, medical staff and support required to deliver this service.
If you bring another person with you, you will receive $300 off the cost of your treatment. Referrals must be clearly identified upon registration.
Also Included in Your Fee
In addition to being given top notch medical care, the following additional benefits are included in order to facilitate your further studies, personal growth and continued self-care and pampering. We'll provide you with Dr. Tel-Oren's Truth About Your Food lectures, which are also available on www.ecopolitan.com. During the 10 days of your Novadermy experience, you will have plenty of time to rest and relax. We encourage you to bring a cd player so that you can benefit from the opportunity to enhance your learning while you've taken these 10 days to improve your confidence and well-being. You will have access to the internet during your stay; you can bring your laptop and DVDs to watch on your laptop.
Coming out of this procedure, we want to make sure you are equipped with support, knowledge and tools you need to rejuvenate your body and your mind to go along with your new look.
Accommodations
The cost of accommodations are not included in your fee. The cost of the hotel (9-10 nights) will be paid by you directly to the hotel upon arrival. You can select single or double occupancy (double is half the price). Dr. Vargas will reserve a block of rooms according to the number of registered participants, at his discounted corporate rates and you can contact our office to receive more specific information regarding hotel fees and other arrangements. Double occupancy will be about $40.50/night. ($81.00/night for single occupancy.)
How to Secure Your Payment
1. A non-refundable deposit ($1,000) is required to be paid in order for us to proceed with your registration and preparations for the Novadermy procedure. Applications without a $1,000 deposit will not be accepted. To get your application process started, please email your name, contact information and any other relevant information regarding your interest in this procedure to clinic@ecopolitan.comor call (612) 326-6839 to process your application over the phone. You may also download the initial application here.
2. The entire remaining payment must be sent no later than 7 days before the start of the procedure, unless other arrangements have been made with our office. You may also pay by credit card, but be advised that a 2.65% processing fee will be charged. Please contact our office to specify your preferred method of payment. The referral fee will be deducted from your final payment.
Send Your Bank Draft or Cashier's Check To:
Ecopolitan, ATTN: Orit Beitler
231 South street
Chestnut Hill, MA 02467

Checks should be written to the order of "Ecopolitan"
If you have any other questions, or to reserve your place in our next group, please contact
clinic@ecopolitan.com