Set up appointments in person or by phone for these services at the Ecopolitan Restaurant today!
Breast Thermography, also known as Digital Infrared Thermal Imaging (DITI) is a radiation free, contact free, non-invasive (symptom-free), state of the art clinical screening rest recommended for women of all ages. DITI is available at the Ecopolitan Building's 'clinic' (left to...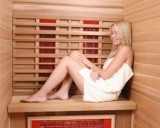 Welcome to the Ecopolitan's Infrared Sauna. Relax in the cedar chamber for infrared treatment anytime you wish. Step in and listen to music, read or meditate as you experience the therapeutic benefits of Ecopolitan's infrared thermal sauna. You'll emerge feeling refreshed, detoxified and...