Disorders That Show Up in the Nails Nail changes may signify a number of disorders elsewhere in the body. These changes may indicate illness even before the rest of the body does. The following nutritional/health problems can be indicated by the following:
Hepatopathy: any disease of the liver. Hepatotoxin: a toxin that destroys liver cells. Cholestasis: stoppage or suppression of bile flow, due to factors within (intrahepatic cholestasis) or outside the liver (extrahepatic cholestasis). Cirrhosis: a liver disease characterized pathologically by the loss of the normal microscopic lobular architecture and regenerative...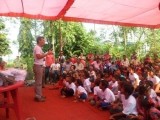 Take 10 Years Off Your Face PERMANENTLY In Only 10 Days With Novadermy - The World's Safest and Most Effective Anti-Aging Facial Rejuvenation Treatment Listen to Novadermy 1 explained here... Download MP3 Listen to Novadermy 2 explained here... Download MP3 Q&A with Dr. Vargasbr Download MP3 / Download "Q&A with Dr....