Question: What is the deal with coconut oil? I hear that it is "wonder oil." How is that possible considering that is among the oils highest in saturated fat?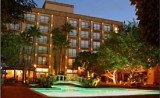 Because it is important to avoid intense sun exposure for three months after the procedure, Novadermy is only offered during the winter months. In order to ensure the very best support for your experience with Novadermy, groups are limited to a maximum of 15 people. Please note: there is a minimum of 4 people per group to hold a session. Please be sure to notify our office as early as...
Acne Vulgaris An inflammatory disease most commonly seen in teenagers. It affects areas where sebaceous glands are largest, most numerous, and most active. Mild cases consisting of few residual signs except possibly dilated pores, and the development of the comedo, or blackhead, may progress through more pathological stages of ruptured sebaceous ducts, pustule formation,...